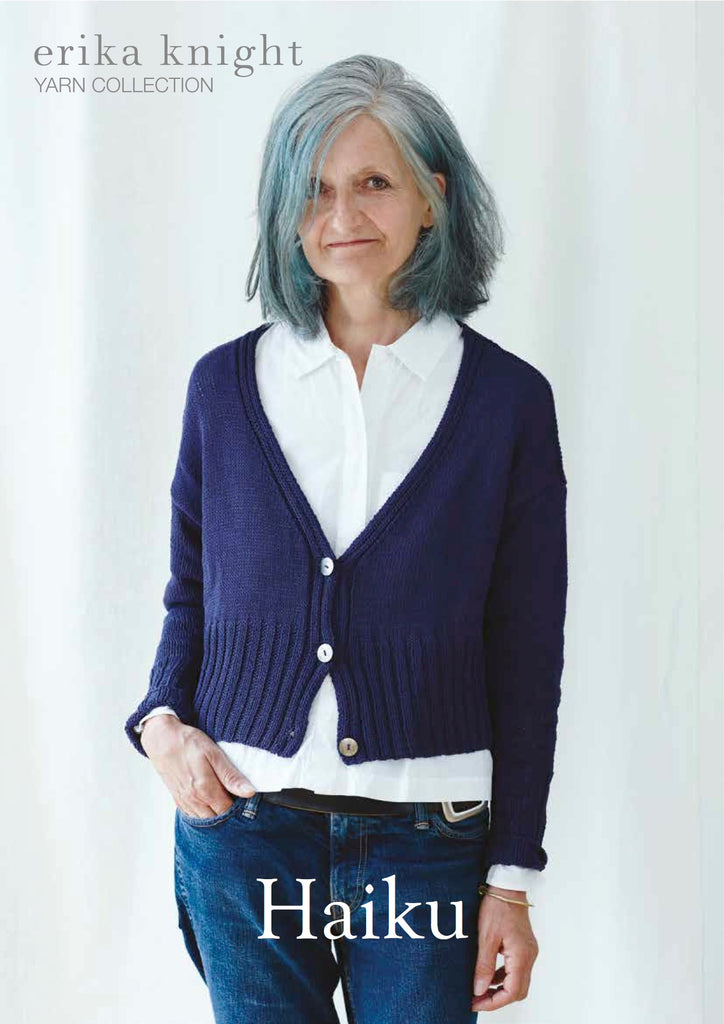 Erika Knight 'Haiku' Cardigan knitted in Studio Linen PDF Pattern
£3.50
Haiku is a wide, cropped cardigan knitted in stocking stitch with a deep rib and integral button bands. Designed by Erika Knight and knitted up in her Studio Linen, Haiku has proved a very popular knit and is a perfect layering garment.
Studio linen is made from 100% linen. 85% is recycled rayon-linen fibre sorted from selected wastage and then regenerated with the eco-friendly hydrolysis method. It is then blended with 15% premium natural linen to create a fibre which is cool to the touch and which, when knitted, has a beautiful natural drape. Linen naturally softens with wear and washing
Linen is an ancient and sustainable natural fibre which comes from the flax plant. It is naturally resistant to pests and therefore these eco-friendly stem fibre plants require practically no pesticides nor herbicides producing large amounts of usable fibre per acre without irrigation. 
materials 
Erika Knight studio linen 85% recycled linen/ 15% premium linen approx. 120m/131yds
50g/13⁄4 oz hank
S 8 hanks;  M/L 9 hanks;  XL 10 hanks
3.25mm/US 3 & 3.75mm/US 5 needles
3 buttons size 20mm
stitch holders
stitch markers
large eyed blunt tipped sewing needle 
Note: Yarn amounts given are based on average requirements and are approximate.