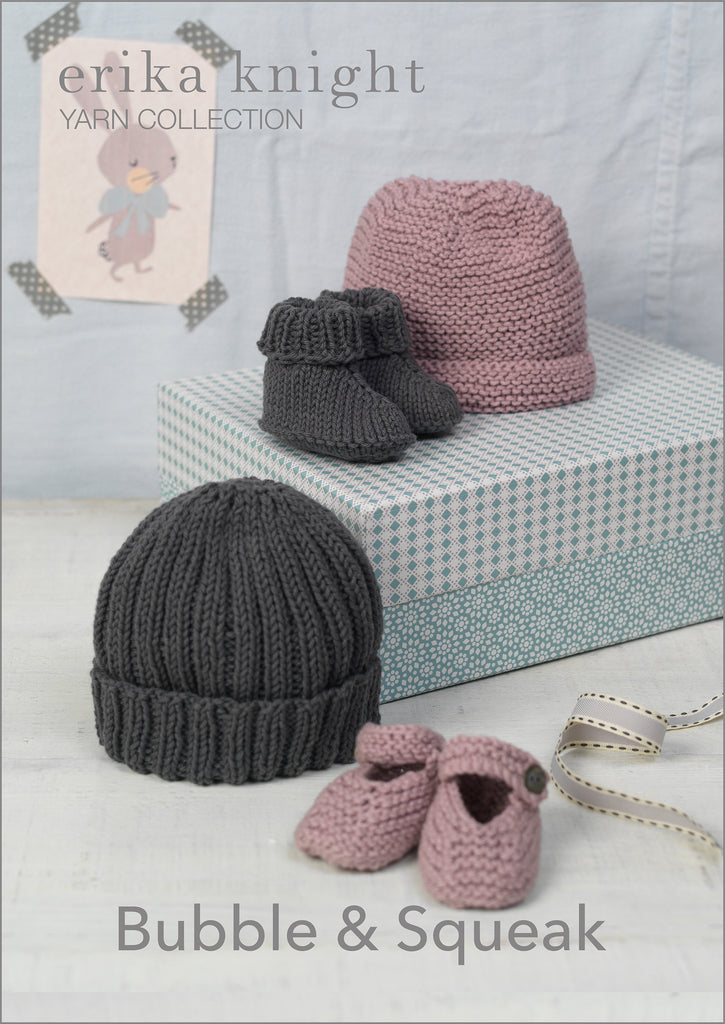 Erika Knight 'Bubble & Squeak' Baby Hats and Booties PDF Pattern
£3.00
Both sets are made in Erika Knight's gossypium cotton which is 
a bespoke yarn produced in the Hisar Distract in the state of Haryana, India. It is manufactured by an 
eco-friendly company who considers the welfare and development of its employees whilst promoting fair labour practices.
When you purchase Erika Knight's gossypium cotton you are buying a product which has been carefully selected from the highest quality raw cotton fibre and
then spun and dyed with care.
Bubble 
A basic hat worked in garter stitch with simple shaping and cute 'Mary-Jane' style shoes to match, fastened with a little button.
materials 
erika knight gossypium cotton 
100% cotton approx. 100m/109yds – 50g/13⁄4oz ball 
2(2:2) balls 
3.25mm/US 3 needles for shoes 
set of four 3.75mm/US 5 double ended needles for hat 
2 x buttons 
stitch holder 
large eyed blunt tipped sewing needle
Squeak 
A basic hat worked in 2 x 2 rib and little "chucker" boots knitted in stocking/stockinette stitch with 1 x 1 rib cuffs.
materials 
erika knight gossypium cotton 
100% cotton approx. 100m/109yds – 50g/13⁄4oz ball 
2(2:2) balls 
3.25mm/ US 3 needles for boots 
set of four 3.75mm/US 5 double ended needles for hat 
stitch markers 
large eyed blunt tipped sewing needle