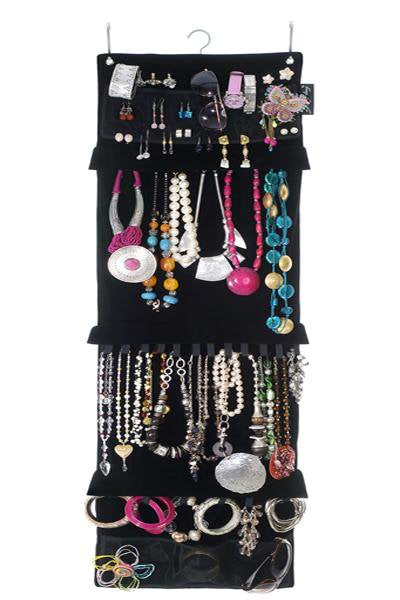 Needles
Maxi Swag-bag
$26.00
If you have a large collection of costume jewellery that you wish to store and display, then the Maxi Swag-bag is perfect for you. Once you have displayed your collection on your Swag-bag, you will save time choosing the perfect accessories for every outfit.
Premium Quality
Made from superior, classic black velveteen which provides an elegant backdrop to protect, store and display your jewellery.
Multi-purpose use
All components of the Swag-bag can be used for multiple purposes. For example, the ring bar can be used to attach brooches, hair ornaments, hair bands, watches, glasses and, of course, rings.
Optimal Storage
With 12 small and 18 large adhesive tabs, there is plenty of room to organise all your jewellery. The mesh pockets enable you to store items securely whilst maintaining visibility. The mesh also secures all your earrings in place.
Specifications 
Height:   118cm/46.5in
Width:     39cm/15.25in
Our maxi Swag-bag arrives in its own storage pouch together with 2 overdoor hooks and a hanger. It is recommended to used the overdoor hooks to carry the weight of a fully laden Swag-bag.