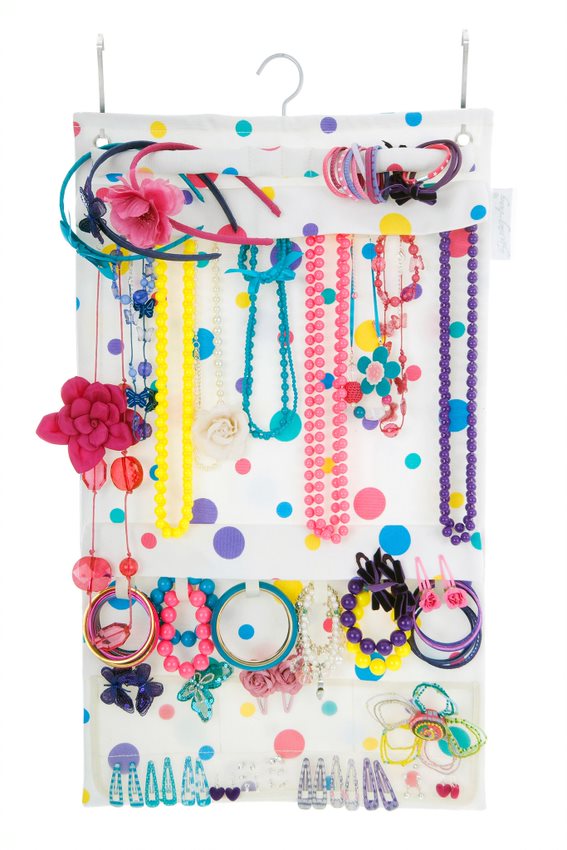 Needles
Midi Swag-bag (Spotty Dotty)
$16.00
When we are organised, we feel in control. A jewellery collection can easily end up in a tangled mess or hidden from view. If this happens we can forget about pieces that can really transform an outfit to give it the 'WOW' factor. The solution is simple: purchase a Swag-bag and display your jewellery to maximum effect.

Premium Quality
Superior quality and beautifully made, the Swag-bag jewellery organiser is designed to hang over a door or in a wardrobe for easy access.
Strong and Durable
Midi Swag-bag is available in a unique spotty dotty cotton fabric designed in a colour palette which appeals to children, teenagers and the 'young at heart'.
Multi-Purpose Use
With its ring bar, 18 self-adhesive tabs and 3 mesh pockets. Swag-bag has multiple options for storing a wide variety of items and is brilliant for tidying up all those hair clips, hair bands and bobbles.
Eye-catching Display
Swag-bag clears clutter by displaying your jewellery and tidying away all the hair accessories and other 'bits and bobs' that can cause chaos.
Specifications
Height:   64cm/25in 
Width:    39cm/15.25in
Swag-bag arrives in its own draw-string pouch with 2 overdoor hooks and a hanger.